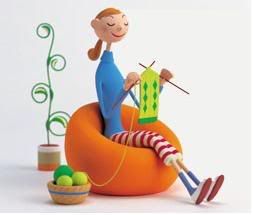 Sew! I believe that a good time was had by all. Well...I had fun anyway! First we all just hung out, talking and getting to know one another. I wish I would have gotten some pictures of that. The pictures make it look like everyone was working in a pretty sweatshop! There were a multitude of crafts being crafted craftily. We had a crotchet cutie (what a hooker!), some sassy stampers, sexy scrap booking, sultry sewing, nifty knitting and juicy jeweler making. Then there was the duo of diva drinkers who came not to craft but to laugh and visit. Fabulous!


Not the Crumble- Heathers' was better
The dessert was fantastic. Heathers' apple cherry crumble was a big hit. The smell of it got our taste buds jammin'. We were all ready to dive in when Heather gave the green light. The signature drink, Cherry and Apple Craftinies were great as well. I had two!
I am really wishing that I took more pictures now. The fakies will have to do! It would be awesome to have real pics of the drinks and food. Next time. Speaking of next time! Those who couldn't come please come next month. It will be on Friday the 15th. The volunteer hostess will be Tara. She lives just across the street from Heather and I. Be there or be a bedazzled square.
Rachel "makes it WORK"!

I worked on this sweater. Does it suit me?

Melissa keeps a close eye on Katie. "You will finish these thank you notes and mail them." -The Real Mel Gibson



"There is nothing funny about making beautiful earrings." -Heather



Tara was fancy! Pretty lady!




Elizabeth scraped through the seasons. Seriously.

Hallie multi-tasked with stamping and loom knitting. She was not thirsty at all.

Scraperific creations by Elaine.
No craftin' here. Just good old fashioned fun! Yea for Amanda and Ana! A squared!




You are probably thinking, "OK great. But what about the CRAFT OFF?!?!??!" If you are not thinking this then you should. Now.

The Craft Off was dangerous, thrilling and in the end very crafty. Heather and Rachel received only a few third degree burns from the tres fancy glue guns. In my opinion a Craft Off is bunk without a bit of danger. In the end the votes were tallied and Rachel had to extinguish her glue gun. Heather eeked out a win and donned the ultra chic tiara and pink feather boa.
Think dueling banjos with glue guns, popsicle sticks and random craft magic. And unicorns.





Ahhhhhhh!!! It burns so good!!!




The Cheater Smirks
"But mine has twine!" -Rachel




Crazy Sexy Crafty Cool